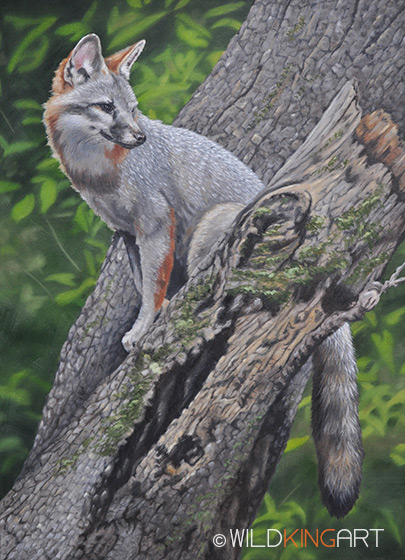 Fox Hunt
Category: Oil Painting
Original Size: 30" x 40"
For details about print sizes, print options and prices contact Artist.

"I was visiting the Tallahassee Museum of Natural History in Tallahassee, Florida when I got some rare photos of the Grey Fox in their outdoor exhibit. Along with the fox they have a Black Bear, Florida Panther, Bald Eagles, Bobcat and more. I almost didn't stop that day because of the rain that was falling, but the person at the front desk looked at the radar and said I would have about a 45 min. window where there would be a break in the clouds before the next rain came through. This is typical of Florida weather in the summer. It was raining a little as I began to walk through all the exhibits. After seeing all the animals I came to the Grey Fox exhibit. All I could see was the tip of his tail peeking out of the tree about 30 feet off the ground. I didn't even realize they climbed trees. I went back to see some of the other animals and before leaving I decided to check on the fox again…only to see the same tail in the same tree in the exact same place. Just as I was getting ready to leave and call it a day the little fox emerged from its nap and came out and sat in the opening looking around. After a few moments he turned around backwards and began sliding down the tree tail first, holding on with his front toenails. by using his back toenails as breaks he slid down the tree in what I would call a controlled fall. He jumped to the ground and disappeared into the palmettos and undergrowth and was out of sight."