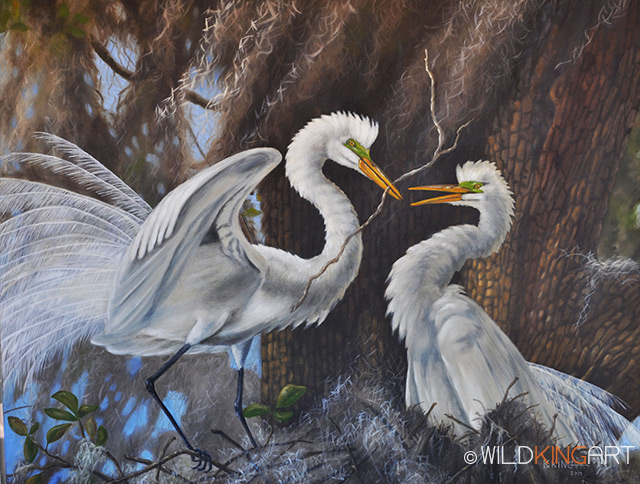 The Gift
Category: Oil Painting
Original Size: 36" x 48"
For details about print sizes, print options and prices contact Artist.

"I love the time of year when all the birds are nesting in early spring in Florida. Being careful not to get too close, these Great Egrets can be watched as the males display their feathers and show off to attract a female. The colors in the face turn to a bright neon green color to make these large egrets a beautiful sight. They were almost killed to extinction because of people wanting their feathers for a hat. This one pair was high up in a large oak tree surrounded by Spanish Moss hanging from the branches. The wind was blowing so hard I don't know how they managed to stay in the nest. I waited for several hours until the male finally returned with a stick for the female to build the nest. He is always greeted with a display in case he lands in the wrong nest. From the video I took, I pulled the frame at the exact moment he returned with the stick. These beautiful, large egrets are no more in danger of being extinct."