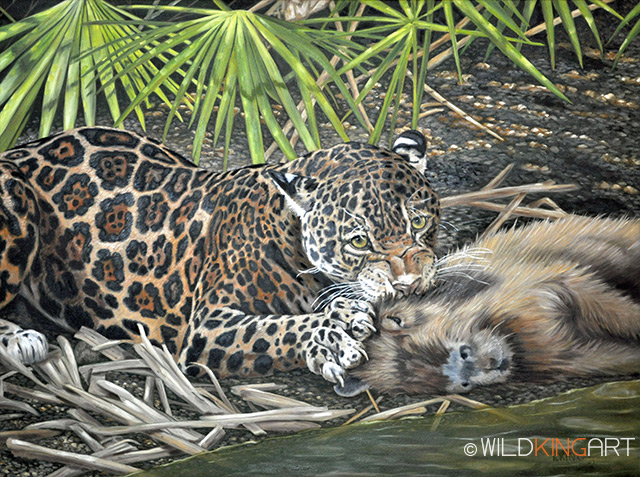 Waterhole Kill
Category: Oil Painting
Original Size: 36" x 48"
For details about print sizes, print options and prices contact Artist.

"This is definitely not one of my quieter moment paintings. I visited the Brevard Zoo in Melbourne, Florida and I happened to see two young adult Jaguars play fighting and tumbling together. I quickly snapped a few photos and this is how the painting began. I was so amazed at the beautiful rosettes on their side and the solid spots on the white underbelly. As they tumbled around and upside down with each other it was difficult to tell which one was which as their bodies blended into one big orange, white and black mass of spots. When I got home I did more research on the Jaguar to become more familiar with them. It helps when starting a painting to be correct in depicting the animal in it's natural wild habitat. Many people get the Jaguar confused with the Africa Leopard, but the Jaguar is only found in South America, a continent away. They are similar, but the Jaguar has a broader head and the rosettes on their sides have a spot inside them. The Leopard has plain spots. I read where the Jaguar's favorite food is the Capybara, a large rodent-type herbivore who lives where there is plenty of grass and water nearby. The Jaguar swipes with a blow to the head to confuse the victim and then makes the kill from the back of the neck. While downloading my photos from the day I almost forgot about the photo of a Capybara I took the same day. It fit perfectly into the Jaguar's jaws! This was an exciting painting to work on. Its sad for the Capybara, but it is the way a Jaguar survives."